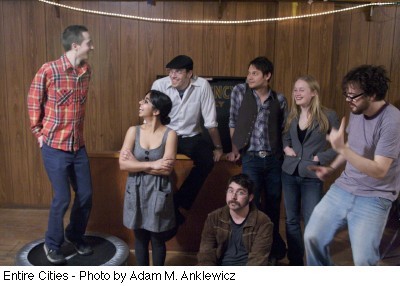 Entire Cities are a band of varying mass who's songwriter and frontman, Simon Borer, has an incredible knack of creating country-laced punk rock, that will easily have the audience dancing. The last time I saw them, they were playing Legion Hall to celebrate the release of their first full-length record, Deep River. It was about a year and half ago when they released that fabulous album, and its found a place in heavy rotation among my collection. Last night was to celebrate the release of Deep River on white vinyl.
Over the past year and a half, the band has changed dramatically. Only four members are still in the band today, Simon Borer (guitar), Tamara Lindeman (banjo), David Missio (guitar) and Ruhee Dewji (flute & sax). Their fleshed out their line up with an additional five members (yes, nine total), to make matters even more comical, they even invited more people up to join them on stage at various times.
I went to the show without my trusty camera, and instead viewed the show as an audience member. The band played many favourites from the record, including "Dancing With My Brother" and "Coffee," in addition, they played numerous new songs, the majority of which had the audience dancing, and are a good sign for the future of this band.
[wpaudio url="http://www.anklewicz.com/wp-content/uploads/2009/11/DancingWithMyBrother.mp3″ text="Entire Cities – Dancing With My Brother" dl="0″]
Podcast: Play in new window | Download