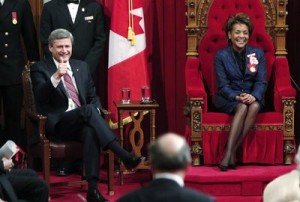 Today marked the second December in as many years in which the Head of Government has asked the defacto Head of State to prorogue Parliament. This wouldn't be a problem if there was a practical purpose to end the session early, however, in both cases the Right Honourable Prime Minister has used this little-used Parliamentary tradition to serve his singular purpose.
Last year, Her Excellency, the Governor General prorogued parliament on the advice of her Prime Minister to prevent an election or a coalition government forming. This year, Madame Jean had a precedence set, if he asks, she must grant; what happened to the oversight of the Crown? What's the purpose of this prorogation? An outsider would just assume that the government was done its job for the session. However, the government had over 30 bills sitting, waiting to be debated and voted on.
Some speculate it's to prevent any negative news during the Vancouver Olympics. Some suggest that it's to delay any investigations into abuse and torture allegations in Afghanistan. Some think it will allow Mr. Harper to appoint another five Conservative senators and then shuffle the committees to be more blue-friendly.
None of these are in the spirit of what prorogation is meant for, none of these are anything less than self-serving options. How about a bill specifying reasons in which a government can prorogue parliament. The NDP/Liberals/Bloc have the majority of seats. Would this not be easy enough to pass through Parliament and the Senate? Oh wait, you can't pass any legislation when Parliament is not in session.
Michäelle, remember why you're the one in the throne, you're the one representing Her Majesty.
All hail, King Adam I?
http://canadiancynic.blogspot.com/