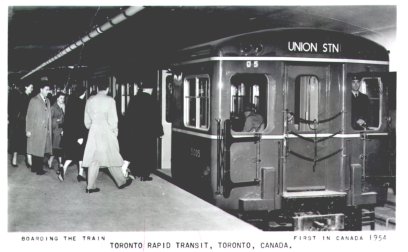 My dear, and sexy friend Nicholas, posted this video to twitter. There's a few things that strike me about this video… other than the terrible audio, because really, the sound's horrible.
Three tokens for a quarter?!?! WTF?!?! Now it's one token for twelve quarters!
Toronto in the '50s seems quaint. I'm pretty sure it's just the music, but Toronto in the '50s does seem like some cheesy movie. Anyone have a time machine? I wanna see what it was really like? Go down to Queen Street and see what was hopping in the pubs and bars that lined Queen West. I'm sure Buddy Holly was shredding on the stage of the Horseshoe.
"Toronto got itself a subway, really!" That quote. It's kinda cute how he says it, but the content of what he says is the reality. Toronto was as full of municipal cynicism as it is today. It's a tradition. I think it's a tradition that needs to end. I think it's about time we looked with optimism at what Toronto is and, more importantly, what it can become.