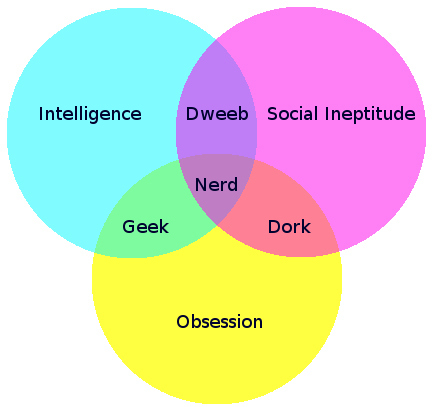 It seems that some people seem aghast by the fact that I'll use the word geek to describe myself. What do I do for a living, "I'm a computer geek." What do you do for fun, "I'm a photo geek," or "I'm a music geek."
It seems that among parts of the population, geek is seen as an offensive term. Yet, not to those to whom the label applies.
Geek is, I'd say the highest level of the quad-fecta of Nerd/dweeb/dork/geek, as it's the only one without the social ineptitude. In other words, geeks get laid.1
Though, looking at the venn diagram (found above), I can't actually say that I am a geek when it comes to technology. I'm not obsessed with technology. I generally don't like technology, I just know it.
Why do I write such things, when I know my family reads this? [↩]