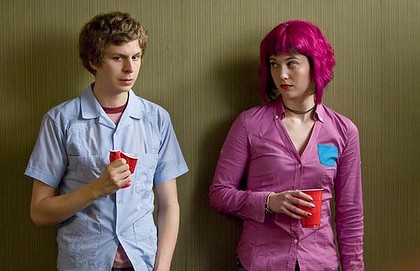 When I heard that Edgar Wright was directing a film based on the Scott Pilgrim series of graphic novels, I was stoked. I wouldn't let the cynicism of a certain Pilgrim fan-girl bring me down, and I'd hope for the best.
I was wrong. I was completely and totally wrong. I expected this film to be amazing, and it went well above and beyond any expectations I had.
The Story
A young man named Scott Pilgrim meets a foreign girl named Ramona Flowers who recently moved to his city, he falls for her, but to win her, he must defeat her seven evil-exes.
That's pretty much the story in a few seconds. It's not that complicated, but what is important is who these characters are. There's Scott Pilgrim, a man who's lived in Toronto his whole life1. He's a slacker, who's between jobs, his ex-girlfriend, Envy Adams, is now a Lady Gagaesque superstar who broke his heart. He's recently rebounded, after 400 days, with a high school girl named Knives Chau, but shortly thereafter falls for the new girl, Ramona.
Knives is in many ways perfect for Scott, if he were actually a good person, but instead he's much too horrible for her.
Scott's in a band called Sex Bob-omb with Stephen Stills2, and his ex-girlfriend Kim Pine. They have a fan… one fan. His name is Young Neil.
Then there's Ramona. She moved from the United States to Canada, to get away from the life she was living. Unfortunately that life and her evil-exes followed her to Toronto.
Gideon wants Ramona for himself, and with the help of the six other evil-exes, he'll do anything to have his trophy woman.
The Cast
Many people balked at Michael Cera's casting this film. I cannot say I'm a fan. I don't like Arrested Development, and pretty consistently he plays the exact same character. Youth In Revolt, was a film that he showed he was more than just the sad hipster loser (with a hot girl on his arm). Cera played an asshole in Youth In Revolt, and while the film wasn't great (see my review), Cera proved himself as worth as playing Pilgrim. Obviously Edgar Wright agreed, and Pilgrim was perfectly cast.
Seeing Kieran Culkin's small bits in the trailer as Wallace, Scott's gay roommate, had me worried, I wasn't thrilled with what I saw, but once I had the full context of the film, I think he might have stolen the movie. Wallace was everything Scott needs, whether it be a kick in the balls or the mothering of this slacker do-nothing. Wallace was hilarious and much I believe is Culkin.
Ellen Wong was Knives Chau. They couldn't have picked a better actress to take that role, and she embodied the character so well.
I had no idea who Aubrey Plaza was, but I know she looked so familiar. She was hilarious, in her cold-asshole manner. She's the perfect woman to put Pilgrim in his place.
That leaves us with Mary Elizabeth Winstead who played Ramona Flowers. She might as well have stepped out of the comic book.
Scott's An Asshole, But So Is Ramona
Scott breaks hearts, and so does Ramona. They don't see the effect they have on the others around them, and live in their own tiny bubble. Scott doesn't only hurt those he once dated, but even his best friend Wallace. Wallace spends the entire film wanting to kick Scott out of their one-room apartment, but loves the man too much to actually go through with it.
The Style
The Scott Pilgrim series of graphic novels are obviously graphic novels. The books are themed like video games, and the film follows this. It steals many elements from comics and video games, and adapts them for the medium. Wright does an excellent job at immersing the viewer into this world of comics and games. Even if you're not much of a comic lover or game lover, like myself, it creates a great quirky little world.
Toronto
There aren't many films where the audience erupts in cheers, hoots, and hollers a few seconds into the beginning of the film. It did with Scott Pilgrim vs. The World. When the narrator said, "in Toronto, Canada," the audience erupted. Now, I'm not sure if that has been happening in other cities in Canada, or even other cities elsewhere in the world, but I assume it has been, because Toronto is amazing.
Torontonians are used to seeing our city on the big screen3. It's the default stand-in for generic American cities. Though it might be able to be disguised as a generic city, it certainly is not. Toronto has a unique identity and most Torontonians are proud of the city they live in. One of Ramona's evil-exes is Lucas Lee, an American actor who's in Toronto filming a generic action film. While they're shooting outside the beautiful Casa Loma, they're filming in front of a matte painting of a generic American city. Lee pushes Pilgrim through the painting  to reveal the CN Tower.
In Scott Pilgrim vs. The World Toronto gets to be itself for a change, and it's proud of who it is. Whether it be the hideous orange and white decor that is Pizza Pizza, the gaudy lights of Honest Ed's, the beauty of the Wychwood library, or the iconic Lee's Palace, Toronto is shown for what it is, and more importantly, it's the Toronto that is mine. I used to live a few doors down from the Wychwood library, and the Annex is a neighbourhood I find myself in so often, I wonder why I don't live there… other than the cost. This leads me into the next section…
Me
This film seems to be a film made specifically for me. A 20-something music nerd who has a warm place in his heart for classic video games, Toronto, and hot chicks. Scott Pilgrim vs. The World brings all these three things together, along with a lot of awesome music, including Halifax heroes Plumtree, who's song "Scott Pilgrim" gave the character his name. It really feels as if the film was made for me specifically.
The Music
When I heard the soundtrack was going to include Beck as Sex Bob-omb and Broken Social Scene as Crash & The Gang, I was slightly disappointed. I'm not a fan of either. I never liked Broken Social Scene, and I don't think Beck's released an album worthy of himself since his okay record Midnight Vultures. Beck's songs reminded me of his early Mellow Gold days, but with a lot more of his folk that made Mutations brilliant. I was surprised at how good Beck was as Sex Bob-omb.
Broken Social Scene's songs as Crash & The Gang were also great. The soundtrack was perfect.
The Medium is the Message
Obviously a comic is not a film, and can never be. While Wright tried to stay true to the spirit of the comic, it had to be changed, in many ways. He did an excellent job of compressing a story which spanned six books into a single film, and ended the film in a damn good manner, which addressed the important factors that the novels ending addressed4.
In Conclusion…
There is absolutely nothing I would change about this film. Edgar Wright did an incredible job. Best director oscar?