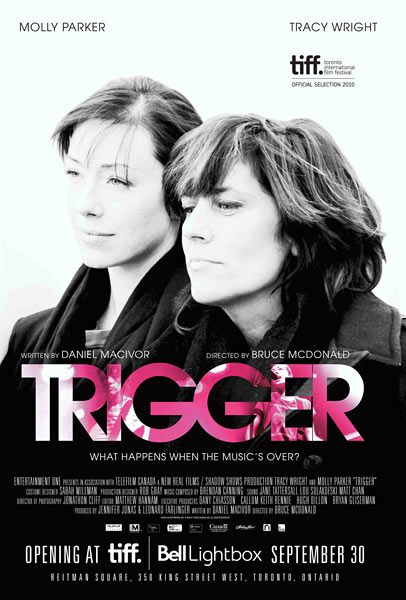 Vic (Tracy Wright) and Kat (Molly Parker) grew up together. They started a band together. They lived their lives together. They abused themselves with drugs and narcotics together. They were Trigger together.
Trigger is playing/was playing a short engagement at Toronto's brand-spankin'-new TIFF Bell Lightbox, and director Bruce McDonald was on-hand to introduce the film to the audience.
McDonald explained that the film started as a continuation of the story of Joe Dick and Billy Talent who were the two front-men of the fictional band Hard Core Logo. Unfortunately Hugh Dylan's and Callum Keith Rennie's schedules made it impossible. Rather than scrapping the screenplay, McDonald and writer Daniel Macivor rewrote the film about a new band, a riotgrrl band called Trigger.
Though it's not actually titled "Hard Core Logo 2," the film feels it, and it's easy to see Vic as Joe Dick and Kat as Billy Talent. Rennie even makes a brief appearance as "Billy" and the audience is left to assume that this is Billy Talent, while Julian Richings makes a brief appearance as his Hard Core Logo role Bucky Haight.
How does it differ?
Hard Core Logo is about a band coming together for a sham-benefit while one member has a greater goal. Trigger is about a band coming together for a sham-benefit while one member has a greater goal.
Hard Core Logo is about men who are still children. Once the band broke up, they stopped evolving, and their lives were static. When they reunited, all the love and all the hatred were still at the forefront.
Trigger is about a band who grew up. They've become better women and grown, and learned from their mistakes. They're still making mistakes, and are unsure of where to lead their lives, but they're better people than they once were.
That's the major difference. Trigger isn't rehashing what was done before. Trigger is telling a different story within an existing universe.
One interesting thing about this film is how old everyone looks. Parker, Wright, Rennie, and McKellar all look like they've lived lives of abuse and are falling apart. It fits perfectly with the context of the film, and creates a realism, which was only disturbed by a guitar strap continuity error.
Definitely worth seeing. You don't need to have seen it's predecessor to enjoy the film, but it wouldn't hurt. Most importantly, it's a great farewell to a wonderful actor who the Toronto scene has recently lost, Tracy Wright.