Did you know that security sucks at the Sound Academy? For those unaware, The Sound Academy is the worst venue in Toronto. Situated at the foot of Cherry Street, The Sound Academy is a large warehouse with bars, shitty sound and worse sightlines. After seeing Belle & Sebastian there1 I vowed never to return. However, I knew I would break that for three bands, Belle & Sebastian, The Magnetic Fields, and The Beatles. Fortunately, Belle & Sebastian felt they needed to apologize to their fans for having played there before, so I don't imagine they will play there again. Unfortunately The Beatles aren't touring. However, The Magnetic Fields are touring, and some moron thought the best venue for them to perform at was The Sound Academy.
Let me remind you who The Magnetic Fields touring band is:
Piano
Ukulele2
Acoustic guitar
Cello
Harmonium, melodica, various noise makers.
Think this sounds right for the Sound Academy? If you said no, you're absolutely right!
I was excited to see The Magnetic Fields, I was not excited to be at The Sound Academy. Seeing as they usually overfill the venue, I decided I wanted to show up early to get in line, and assure that I was right at the front. I had will-call tickets, and asked my friend (and former co-worker) Caity to meet me at 7, doors were at 8, and the opener was at 9. Yeah, an eager beaver. I parked at the nearby T&T3, and headed to the venue. When I got there there was one man in line, and that was it. I went to the door, as a couple women were leaving the venue, I asked where I picked up will-call tickets, and she informed me that I can't do that until doors. So I hung out by the lake looking at the disgusting view of Toronto.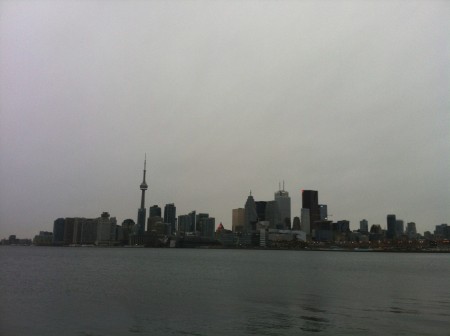 When Caity arrived, she innocently asked, "think it's possible to wait inside?" What could I say other than "doubtful." Then, however, she said, "what if we need to use the washroom?" So we walked to the door, opened it and walked inside. We found a bar to the side of the lobby which was open, there were bathrooms in a poor state of repair4. As I waited for Caity, I could hear someone closing the sliding door separating our private bar and the lobby. We were happy to find we weren't locked in, but rather than go back outside in the cold we hung around the door chatting.
Security guard after security guard filed by, office staff after office staff walked past, no one seemed to notice us. We opened the door for staff members to let them in, they thanked us, and went on their way. We just stood there chatting. As it got closer to doors, I was curious. I went into the main venue, and asked on of the bartenders where one picks up will-call tickets. She didn't seem to blink at this strange man already in the venue asking about getting his tickets, instead she directed me towards another entrance.
Warning: video above contains nipples, both male and female.
Caity and I went there, and found the merch table and coat check. I asked the coat check, and she informed us that the booth is not open yet, and seemed to direct us to go wait outside, but not forcefully, or even directly, so Caity and I went back to where we were. We stood by the door watch the crowd get larger and larger, and after a few decided to go back into that abandoned side bar. We sat on a couch chatting as two men were setting up speakers for, I don't know what.
Once I saw that people were filing in, we found a door near the stage, and joined the crowd. We found a great spot near the centre of the stage. As we waited I got a call from Frances, we didn't talk long, I should probably call her back.
The opening act was boring. I'm not a fan of loop pedals, unless it's done well, like Final Fantasy. I'm glad I brought my earplugs, as she was loud and not all that good.
When The Magnetic Fields came on, I of course, once again, put my ear plugs in, as that's what someone does at concerts, assuming they don't want to be deaf by 35. However, once Stephin Merritt started speaking, I couldn't hear him. I took out my ear plugs, and once the band started playing I was surprised at how reasonable the volume level was at. It was… incredible5.
They played a good mix of songs starting with "I Die" from i.
They played many songs from 69 Love Songs, many from their new record Love At The Bottom Of The Sea, some from Distortion, some from Realism. They even delved into Holiday, Distant Plastic Trees, Get Lost, and Charm of the Highway Strip. After performing "Smoke And Mirrors," Claudia joked that the French was inserted by Canadian law… no one laughed6.
Stephin left the stage as the band performed "Born On A Train." When he returned, Claudia joked that they were a Stephin Merritt cover band, no one laughed, but it did lead to learning the Stephin wasn't originally in the band even though he wrote all the songs. It was only after seeing them perform poorly that he felt he needed to be in the band.
There were quite a few surprising songs including The Gothic Archie's "Smile, No One Cares How You Feel."
"Plant White Roses" from the newish Obscurities record.
and perhaps the most beautiful song ever written, "Forever And A Day7."
During "Come Back From San Francisco," I was thinking of Fran again. Don't know why this song makes me think of her, she lived in San Francisco before we met, not after. It was a great set, and Merritt ended it with "Busby Berkley Dreams."
After the show I went to Aleksej's place, where he was celebrating his birthday. I was a lovely evening of hanging out and chatting with friends. It somehow ended up with Aleksej, Amy, Colleen, Emily, Helen, and myself all piled in Emily's bed. Is there much better than hanging out in a bed with four beautiful women8 chatting about life, the universe and everything?