I had to check which day it was. It's raining here in London, I guess the cliché had to be fulfilled, but c'mon London, isn't it a cliché, I expect you to be better than that.
It's still early morning, and I'm going to try to go see another play. Why? Well, why not? I'm in fuckin' London! Going to see a play called Absent Friends. Katherine Parkinson is in it. You know, Jen from The IT Crowd.
[youtube https://www.youtube.com/watch?v=NuPolrd9yuo&w=450&h=259]
Elizabeth Berrington is also in it. She's probably less recognizable to Canadians, but she played Auntie in the episode of Doctor Who penned by Neil Gaiman, "The Doctor's Wife." It may just be the best episode of Doctor Who, ever.
[youtube https://www.youtube.com/watch?v=jJR8BVuzBU8&w=450&h=259]
I have to say, this is probably the biggest thing Toronto needs, theatre that isn't musicals based off of movies. As much as Back To The Future The Musical could be amazing, we all know that such an invention would be shit. Nor do we need more musicals based on bands… I don't even know what those musicals are actually based on, but I mean Mamma Mia, and the Queen musical. At least Tommy actually is a musical. I hear that Moneyball The Musical is in the works.
So yeah… I'm in a café, staying dry. I'm drinking tea on a rainy day in London. So very cliché.
Unrelated… HOLY SHIT! Finally people are talking about building the DRL!
—
So after that adventure… the adventure of drinking tea… I went to the box office, and bought front row centre seats for £15. Fuck yeah!
From there I… what did I do? I walked.
I got out of the rain, and had a sammich. I talked with a few people online. Mocking them while they were at work. I then walked some more.
I got to Trafalgar Square, and noticed Canada House is there. I think it might be in my video I shot after I visited Parliament a couple days ago. Canada House is closed. They're renovating. All consular services are being done at Macdonald House. Seeing as I had nothing to do, I walked to Macdonald House. Went through Saville Row, saw lots of shops. Looked at shit. Came to a building with a maple leaf flying. Looked at it and thought "Canadians!" Looked next door and thought "Italians!" Looked across the square and thought "Americans!" It's not an exciting place. There is a statue of Roosevelt, and a monument for 9/11. WOO! DEAD PEOPLE!
I then walked some more. I did an awful lot of walking! Just around the corner from where Canuks, Yankees, and Italians like to chill, I found an amazing sign on a wall.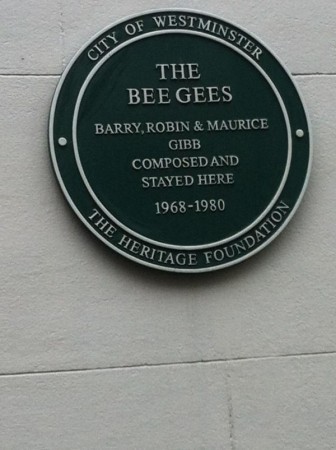 YES!
THE BEE GEES, THEY WERE THERE! OMG!
I also went into Top Shop, and SOMEONE'S GETTING SUED!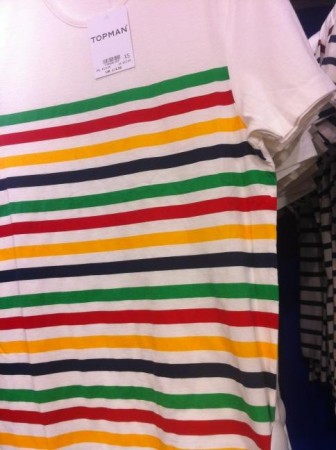 Then I walked along and a sinister being however behind me silently. I turned around to find a devastating cylindrical creature. Nothing about it could be human. As long stalk raised as if using it to evaluate me. Lights on its head… what can best be describe as ahead began flashing as a robotic, non human voice emerged shouting "EXTERMINATE! EXTERMINATE! EXTERMINATE!"
I din't much to offer for defence. I pulled out a Jammy Dodger, perhaps I could bluff my way out of certain doom. To make a long story short the Jammy Dodger bought serious time… and we got to eat cookies. We ended the Dalek with imprisonment within planet hollywood.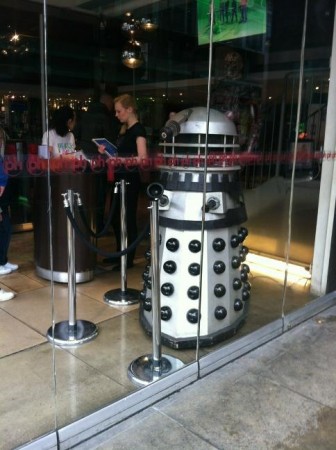 Umm, Exterminate.
Then I had a shitty dinner. It fucking sucks.
From there I want to the theatre. I made friends with a couple on holiday from outside Bath. They were a lovely pair. We chatted about our respective country's geography. His dad's trip to Vancouver, then hell of London during the olympics1.
The plays was funny and depressing. Totally worth the watch Jen (from IT Crowd) had a great performance, her best I've seen her in. SHe actually emotes, and not just over the top emoting… which there's plenty of in this play. Especially when she reveals her desire as a girl to join the Royal Canadian Mounted Police.
It was kinda hilarious. We learn that one of the lads has been away a while, and has gotten engaged. Sadly his fiancée drowned. So friends who have split apart over time get back together. Unfortunately there's a sick husband staying home. Di, the hostess's husband doesn't want to participate. Di is pissed at him because he fucked their friend's wife… and he won't admit it.
Watch it. Oh wait, you can't.
Thank you Toronto for failing. [↩]