Recollection is a project to review my record collection. I will listen to an album I own and review it. The album will be chosen randomly by computron. Today computron chooses… 
Album: Luxury Liner
Artist: Emmylou Harris
Released: 1977
Format(s) I own it on: Vinyl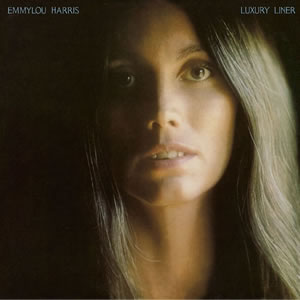 Emmylou Harris's career was defined by her professional relationship with Gram Parsons. She was the voice that made his songs ache so much. Their vocal harmonies were ideal. This was Harris's fourth album and it featured two Parsons songs, the title track, and the classic Flying Burrito Brothers song "She."
As much of a fan as I am for both Parsons and Harris, I have barely listened to this record. I believe I bought it used, played it once, and haven't put it on the turntable again. I picked up the record and was immediately blown away by the list of songwriters. Gram Parsons, Townes Van Zandt, Susanna Clark, Chuck Berry, The Louvin Brothers, and of course, Emmylou, herself.
The songwriters are good, and the songs are even better. It starts a cover of The International Submarine Band's "Luxury Liner" and she perhaps does it even better than Gram Parsons did on the original. She also covers "She" from Gram Parson's classic solo record Grievous Angel.
Highlights
"She" and "Luxury Liner," duh. It is Gram Parsons after all.
"Pancho & Lefty" is a gorgeous Townes Van Zandt song I had never heard before. "Making Believe" by Jimmy Work was the hit single from the record, and deserves to be.
Lowlights
The only one I'd say is Chuck Berry's "(You Never Can Tell) C'est La Vie," yet there is still something rather charming about this song.
Emmylou is awesome.
3 (60%) |
2 (40%)
2 (40%) |
2.33 (47%) |
0.66 (13%)
0 (0%) |
0 (0%) |
2 (100%) |
0 (0%) |
0 (0%) |
0 (0%) |
0 (0%) |
0 (0%) |
0 (0%) |
0 (0%)

0 (0%) |
0 (0%) |
0 (0%)