Recollection is a project to review my record collection. I will listen to an album I own and review it. The album will be chosen randomly by computron. Today computron chooses…
Album: Greatest Hits
Artist: Crosby, Stills & Nash
Released: 2005
Format(s) I own it on: CD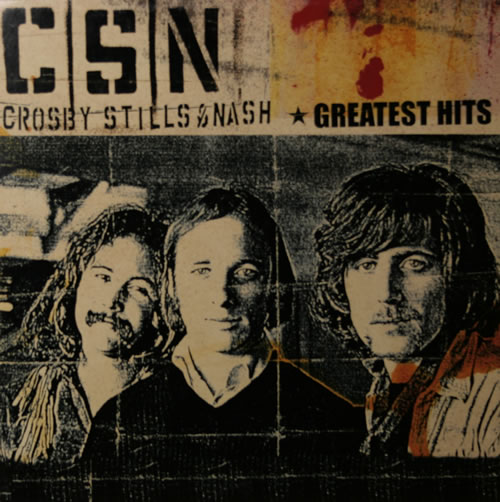 Crosby, Stills & Nash. Yup, those three who released three great records1 and some mediocrity. Two of those great records are actually not credited to Crosby, Stills & Nash, but instead to Crosby, Stills, Nash & Young. Albums seem to get much better when you add a Canadian.
Although the album contains tracks from the classic Crosby, Stills, Nash & Young record Déjà Vu, it doesn't feature a single song with any Neil Young performance on it. However, while Young might be completely missing from this compilation, Art Garfunkel does provide vocals on "Southern Cross" and "Daylight Again." Is that a consolation?2
I'm not a fan of greatest hits compilations, but this one came to me for free when writing for Being There.
It's a strange compilation because it only features songs from their first four studio albums, and completely ignores the rest. The other issue is that since CSN(Y) only have two great studio albums, the rest of the compilation is lacking. Ten of the nineteen tracks all come from their self-titled debut and Déjà Vu. I think what I'm essentially saying is go buy those two records. You can buy them on vinyl at nearly any record store for about $5 a piece.
Highlights
The album starts off perfectly with one of CSN(Y)'s best songs "Suite: Judy Blue Eyes." At seven and a half minutes, it could try you patience, but CSN seem to be able to perfectly craft a song that keeps your attention throughout the whole length of the song. I actually put this record getting into the shower this morning. As the shower came to its conclusion, so did this song.
"Our House" is a classic love song about Nash and his then-girlfriend moving in together. He wants to hear her sing her love songs, and honestly who wouldn't? When you're moving in with one of the greatest songwriters of the '60s and '70s, it must be a great experience. You would've hoped that Nash would have learned a thing or two, but unfortunately his songwriting didn't seem to improve from hanging out with the brilliant Joni Mitchell.
Stephen Stills can be hit or miss, but "Helplessly Hoping" is perfection. The voices of Crosby, Stills, and Nash meld so perfectly on this song. His melody is sublime, and the alliterative lyrics create a great canvas for their vocals.
CSN(Y) didn't tend to write together a lot. They would each have their own songs and work on them together. "Wooden Ships" is a rare exception where Crosby and Stills worked together on this song. "Wooden Ships" is a dialogue between shipwreck survivors. I don't know why it appeals to me, but I've always loved this song since I first heard their album Crosby, Stills & Nash.
I equate "Carry On/Questions" to be Déjà Vu's answer to "Suite: Judy Blue Eyes." They're both the opening tracks on their respective albums, both penned by Stills, and both very dramatic and beautiful. They both set the tone for the record you're going to get to hear.
Lowlights
I really wish I could skip songs during this project. I would skip "Southern Cross." As I said, Stills is hit or miss, and this is definitely a miss.
A lot of people love "49 Bye-Byes," I'm not one of them. There's always been something about this song that just sits with me in a bad way.
"See The Changes" is another Stills song that is just shit.
Okay, let's give Graham Nash one of the lowlights. "Wasted On The Way" is kind of a tedious song. It's pleasant enough, but so generic and cheesy.
Editor's note: I'm expanding the stats to include decade and format.
19.25 (79%) |
 4.75 (21%)
CD: 14.5 (61%) | Vinyl: 7.5 (31%) | Digital: 0 (0%) | 7″: 1 (4%) | Box: 1 (4%)
1960s: 3 (13%) | 1970s: 2 (8%) | 1980s: 0 (0%) | 1990s: 7 (29%) | 2000s: 12 (50%) | 2010s: 0 (0%)
6.8 (28%) |
 12.2 (51%) |
 5 (21%)
3 (43%) |
0 (0%) |
2 (29%) |
1 (14%) |
0 (0%) |
0 (0%) |
0 (0%)

0 (0%) |
0 (0%) |
1 (14%) |
0 (0%) |
0 (0%) |
0 (0%)
Crosby, Stills

&

Nash, Déjà Vu, and 4 Way Street [↩]
No. It's not. [↩]