Recollection is a project to review my record collection. I will listen to an album I own and review it. The album will be chosen randomly by computron. Today computron chooses…
Album: Another Side Of Bob Dylan
Artist: Bob Dylan
Released: 1964
Format(s) I own it on: CD/Vinyl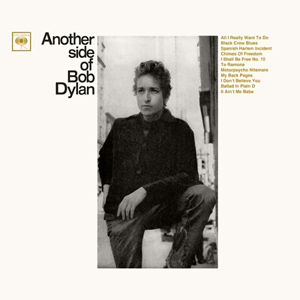 I was excited for this one. I don't listen to Bob Dylan much these days, but still like his music. Back in the high school days, this was one of my favourites. Something changed. I don't know exactly what it was, but here I am, nearly three years after having started this post, and I'm only just getting back to it. It didn't help that the FileMaker database I had catalogued everything in has gone missing.
I had so much problems with this record, because I used to love it, but now I don't love it, and I don't dislike it. There's definitely some cringe moments on this records. I'm often listening and unsure about so much of the record.
Like the title suggests, this record is meant to show Bob Dylan in a new light. He's no longer the protester, he's singing love songs.
At times, Dylan's lyricism can be generously described at pedestrian, but other times, we see the genius that everyone seems to always talk about.
Highlights
"Chimes of Freedom" is a song I loved from this album during my teenage years, and still do.
His nasal voice pouring out "Ballad in Plain D" might be one of Dylan's greatest accomplishments. The song is so perfect, I cannot imagine any cover ever doing it justice.
Lowlights
I hate "Motorpsycho Nitemare" and "Black Crow Blues."
 31.625 (81%) |
 7.375 (19%)
CD: 23 (59%) | Vinyl: 13 (33%) | Digital: 0 (0%) | 7″: 2 (5%) | Box: 1 (3%)
1960s: 5 (13%) | 1970s: 2 (5%) | 1980s: 1 (3%) | 1990s: 11 (28%) | 2000s: 17 (44%) | 2010s: 3 (8%)
 11.8 (30%) |
 17.2 (44%) |
 8 (21%) |
 1 (3%) |
 1 (3%)
 4 (33%) |
 1 (8%) |
 4 (33%) |
1 (8%) |
0 (0%) |
 1 (8%) |
0 (0%)

0 (0%) |
0 (0%) |
1 (8%) |
0 (0%) |
0 (0%) |
0 (0%)