Recollection is a project to review my record collection. I will listen to an album I own and review it. The album will be chosen randomly by computron 2.0. Today computron chooses…
Album: Gaslight b/w Rimb Nugget
Artist: The Ugly Ducklings
Released: 1967
Format(s) I own it on: 7″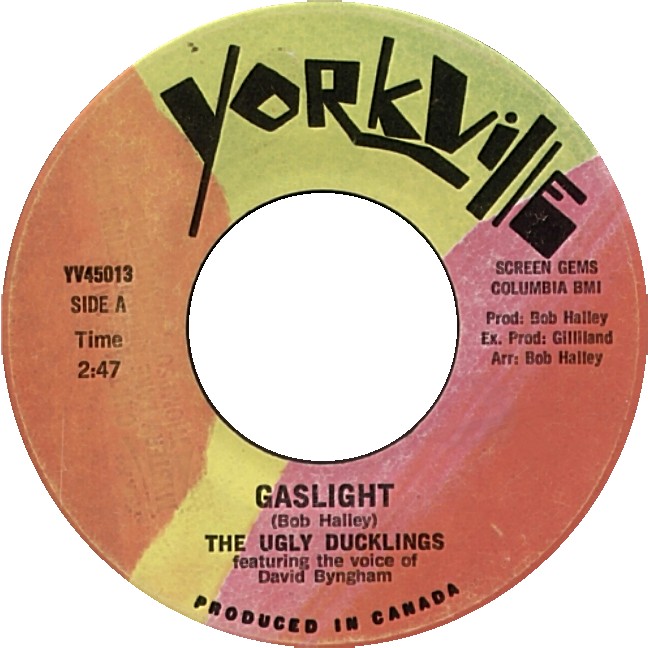 The Ugly Ducklings were a Toronto band and Gaslight was their biggest hit. This has been sitting in my drafts folder for almost a year. I seem to do this, get stuck on a single review and not power through. Well, I'm doing it.
Gaslight is a weird song. It's about a woman gaslighting the singer. Kinda. I think. Either way, he's in an unhealthy relationship and needs to leave. Dear Mr. Duckling, get out of there.
Is this song worth your time? Maybe. It's okay. It's a decent song, but I would probably only listen to it if it can on shuffle.
As for the B-Side, well, it's not great. It serves its purpose of being there to be a b-side, but it's not worth anyone's time to listen.
I DID IT! I WROTE IT! HOORAY! Now I can move on.
Next time: David Bowie's Aladdin Sane
34.295 (82%) |
7.705 (18%)
CD: 24 (57%) | Vinyl: 13 (31%) | Digital: 0 (0%) | 7″: 3 (7%) | Box: 1 (2%)
1960s: 6 (12%) | 1970s: 3 (7%) | 1980s: 1 (2%) | 1990s: 12 (29%) | 2000s: 17 (40%) | 2010s: 3 (7%)
 14.8 (35%) |
 17.2 (41%) |
 8 (19%) |
 1 (2%) |
 1 (2%)
 6 (40%) |
 1 (7%) |
 4 (27%) |
 2 (13%) |
0 (0%) |
 1 (7%) |
0 (0%)

0 (0%) |
0 (0%) |
1 (7%) |
0 (0%) |
0 (0%) |
0 (0%)