Part One
Nice whip. Oh god, terrible 1980s rapping.
Aww, she's got Tom Baker's scarf.
That is the raddest tricycle I've ever seen.
So a robot materializes in the TARDIS and runs an advertisement. Somehow I think that's the most realistic thing I've ever seen in Doctor Who. Oh and it's individualized advertisements. I assume that robot is what Facebook eventually becomes.
The guy on the trike has the best hat ever! Those bat wings are great. Also, is that Rob Brydon?
Both the driver and our heroes had 10 minutes to see one another, there's no reason they should have come so close.
Wow, two BIPOC in this episode. That's a surprise.
Part Two
Doctor, your friend seems very uncomfortable. Maybe listen to her?
The Doctor is an idiot.
More of this terrible rapping.
The rapper really likes his whip… but damn, he's rapping again.
Part Three
Did he just say "Hello deadbeat." Yeah, yeah he did.
Ow, your teeth, don't bite into ice cream like that.
God this episode is terrible.
A werewolf? Really? Well, this is Doctor Who, they've done worse stuff.
Part Four
The thumbnail in Plex for this episode:

Reminds me of "the Vampires of Venice."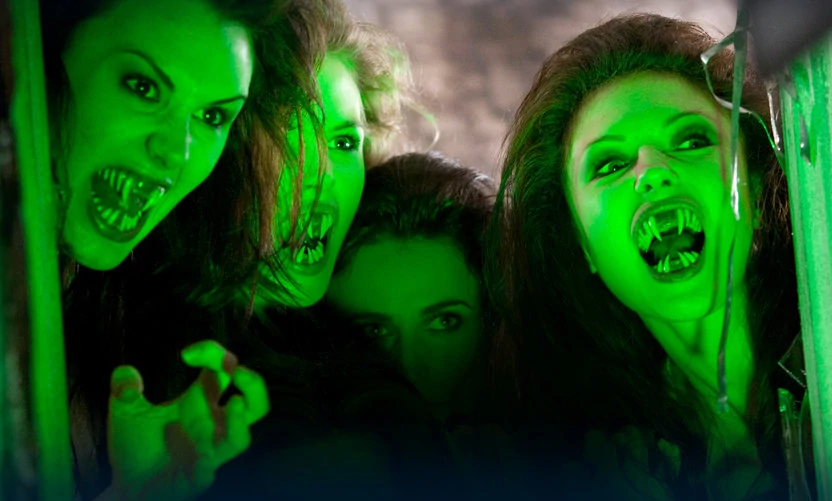 Did the head of a Lego man just poke out?
Wow, LegoHead blowed up and Ace is so happy. She loves a good explosion.
The gods of Ragnarok?
Okay, I didn't know Ragnarok was not just a Thor movie.
Was this whole story put together to get Sylvester McCoy to do his magic?