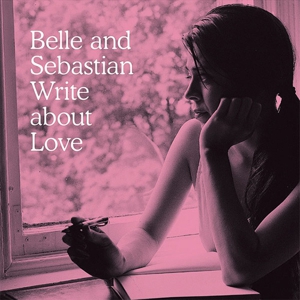 Belle & Sebastian's latest record Write About Love was released last month. I've had some time to digest it, so here we go, a time to look at what might be the worst Belle & Sebastian album since Fold Your Hands Child, You Walk Like A Peasant…
I Didn't See It Coming
Like most Belle & Sebastian albums, Write About Love starts off strong with Sarah Martin's "I Didn't See It Coming." This might be the first record of theirs not started with a Stuart Murdoch song. Certainly strange, but the song. It's a slow moving song with lead vocals by Martin, and backing vocals from Murdoch. The one thing I'm not so thrilled about is some sound buried in the background, which I mistake for sirens when I'm driving.
Come on Sister
This 8-bit ditty seems to be a perfect extension of the syrupy pop from The Life Pursuit. If you like that example of pop-perfection, then you'll love this song. I did, and I do.
Calculating Bimbo
Well, it's the first song on the record I traditionally skip. The song is boring, and uninteresting. The lyrics and music both are similar, lame. Stuart, I know you can do better…
I Want the World to Stop
Oh, here it is! This is the better I knew you could do! This is perhaps one of the best song Belle & Sebastian have ever done. Definitely the highlight of their Rough Trade-era. This song is so addictive and fun, I can't imagine anyone listening to this and not singing it for hours on end. This is pop-perfection, and it really doesn't get any better than this. Thank you, Stuart.
Little Lou, Ugly Jack, Prophet John
This song is getting a lot of flack, because it is a duet featuring Norah Jones. Apparently the hip kids hate Norah Jones, I never knew this. While I'm not a fan of Jones' work, I've never disliked her, and don't object to some cheesy jazz when the mood strikes me. "Little Lou, Ugly Jack, Prophet John" is exactly that, cheesy, harmless, and lovely jazz. It's a pretty song, and Jones provides a voice that Sarah Martin can't, so brining her in makes a lot of sense; like when Monica Queen sang "Lazy Line Painter Jane." The only difference is no one knew who Queen was1.
Why all the hate?
Write About Love
Another harmless song that doesn't do anything spectacular.
I'm Not Living in the Real World
Stevie Jackson finally gets his chance with "I'm Not Living In The Real World." While it's better than his contribution to The Life Pursuit, it's not very good, and slightly annoying. While the man who's written such classics as "Seymour Stein" and "Chickfactor" has certainly seen better days.
Ghost of Rockschool
A song which can best be described as "unspectacular." It was halfway done before I noticed that it was on, and should write something about it. Okay, so this is slightly overdone, the whole "I've seen god in the…" part is pretty, and hopeful.
Read the Blessed Pages
Boring.
I Can See Your Future
Another Sarah song, not nearly as interesting as the album's opening track, but there's nothing objectionable about it. There's also nothing spectacular about it. Nice bass line, though.
Sunday's Pretty Icons
Docile.
Also, no one knows who Queen is. [↩]