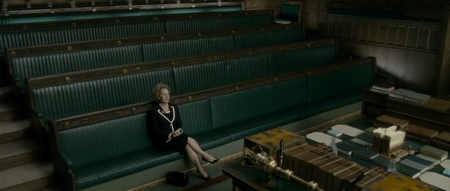 Loneliness and depression. A great film to watch on Valentine's Day. The Iron Lady is about a woman in her 80s who lost her husband. She cannot let go of his influence in her life, and regrets the inattention she paid him and her children while she was too busy working.
Did I mention that she's Margaret Thatcher, the only woman Prime Minister of the United Kingdom of Great Britain and Northern Ireland?
The film's narrative is seen from the perspective of the aged former-Prime Minister who keeps seeing, and talking to her dead husband. Through that dialogue, she's taken into her past, recalls her time as a young adult watching her father as a politician, running for Parliament, and even taking over leadership of the Conservative party. All these memories lead her to loneliness.
Her memories paint her in isolation, no comfort in family, no adoring public, no aides or colleagues on her side. Maggie must face Britain and herself alone.