Recollection is a project to review my record collection. I will listen to an album I own and review it. The album will be chosen randomly by computron. Today computron chooses…
Album: The Future
Artist: Leonard Cohen
Released: 2009
Format(s) I own it on: 7″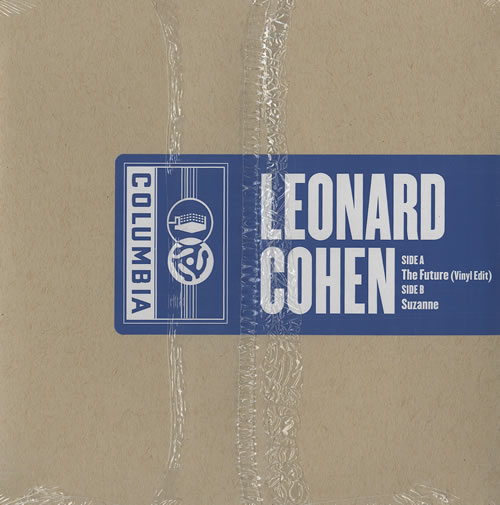 Singles are weird to write about. I cut out of this project the majority of my singles, but I kept in any of them that had a picture sleeve. It was kind of arbitrary way to determine this, but I went with that.
I bought this single on Record Store Day in 2009. The two tracks were pulled from the album Live In London, which I've never heard.
You may have heard me say before that I'm not a big fan of live albums, and if you haven't heard me say that before, then let me say it again, I'm not a big fan of live albums.
Sure, I adore Neil Young's Massey Hall album, and CSNY's 4 Way Street. I also love The Band's Rock of Ages. As you can tell from the review of that record. OH MY GOD SO GOOD. Most others, I can take or leave.
So why did I buy this? I honestly don't know. I think I was in the store, and saw "Leonard Cohen" and shrugged to myself and bought it.
The disc contains who songs, "The Future" and "Suzanne." Both are decent renditions of the songs, but I'd much rather listen to the studio recordings any day.
But! Quebec gets on the board with this!
 22.25 (77%) |
 6.75 (23%)
CD: 15.5 (53%) | Vinyl: 10.5 (36%) | Digital: 0 (0%) | 7″: 2 (7%) | Box: 1 (3%)
1960s: 3 (10%) | 1970s: 2 (7%) | 1980s: 1 (3%) | 1990s: 8 (28%) | 2000s: 14 (48%) | 2010s: 1 (3%)
 8.8 (30%) |
 13.2 (46%) |
 5 (17%) |
 1 (3%) |
 1 (3%)
3 (33%) |
 1 (11%) |
 3 (33%) |
1 (11%) |
0 (0%) |
0 (0%) |
0 (0%)

0 (0%) |
0 (0%) |
1 (11%) |
0 (0%) |
0 (0%) |
0 (0%)