Recollection is a project to review my record collection. I will listen to an album I own and review it. The album will be chosen randomly by computron. Today computron chooses…
Album: When I Was Young
Artist: Eddie Fisher
Released: 1965
Format(s) I own it on: Vinyl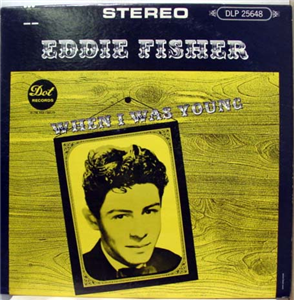 According to Wikipedia1, Eddie Fisher's When I Was Young is a re-recording of his previous hits. Some people might think that Darth Vader is Princess Leia's father, but I'm pretty sure Eddie Fisher was.
His songs suit the big band sound. While the album was released in 1965, it was obvious right away that he didn't fit into that decade. His songs are traditional and his voice soars, he fits more in the 1940s and 1950s. Buddy Holly and Chuck Berry should have been the final nail in his coffin.
Looking at his discography, it seems that might have actually happened. The sappy sounds he produced were quickly ignored in favour of the fervour raising rock and roll he could not compete with.
The record is not really my style, but it's not bad. I could see putting this on for a party more than anything else. Fisher's voice is strong, the man knows how to sing. Much better than Princess Leia's other father.
Highlights
"Oh, My Papa" is a classic that I know from my childhood. I don't know if it's Fisher's performance of the song that I so recall, but it's a classic. I do think I know it more in the original German version "O mein Papa."
"Wish You Were Here" starts off the second side, and while the intro is painful, it gets into this Sinatra-esque groove that is beautiful. The strings are atrocious, but we can ignore that.
Much like "Wish You Were Here," if you ignore the intro and outro to "I'm Yours," it's a pretty good song.
Lowlights
I'm trying not to laugh at "Dungaree Doll," but it's kind of hard not to. I want to dance to this.
Gonna make a chain of paperclips
And chain us together while I kiss your lips
Dungaree doll, dungaree doll
"Lady of Spain." No. Just, no.
 23.25 (77%) |
 6.75 (23%)
CD: 15.5 (52%) | Vinyl: 11.5 (38%) | Digital: 0 (0%) | 7″: 2 (7%) | Box: 1 (3%)
1960s: 4 (13%) | 1970s: 2 (7%) | 1980s: 1 (3%) | 1990s: 8 (26%) | 2000s: 14 (46%) | 2010s: 1 (3%)
 8.8 (29%) |
 14.2 (47%) |
 5 (17%) |
 1 (3%) |
 1 (3%)
3 (33%) |
 1 (11%) |
 3 (33%) |
1 (11%) |
0 (0%) |
0 (0%) |
0 (0%)

0 (0%) |
0 (0%) |
1 (11%) |
0 (0%) |
0 (0%) |
0 (0%)
The source of all human knowledge [↩]