Recollection is a project to review my record collection. I will listen to an album I own and review it. The album will be chosen randomly by computron. Today computron chooses…
Album: From A Lover To A Friend
Artist: Paul McCartney
Released: 2001
Format(s) I own it on: CD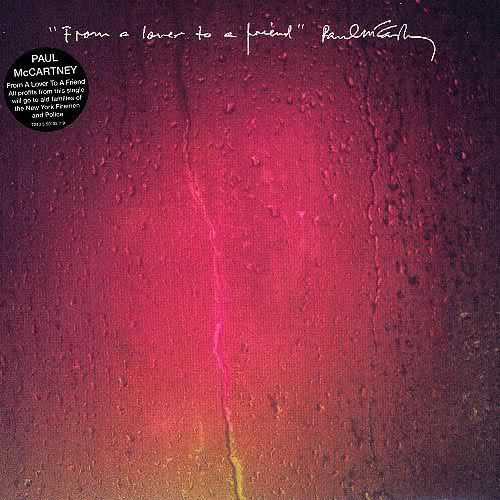 I believe I bought this CD single when I bought my copy of Driving Rain. I assume I never heard the single before purchasing it as I never recall liking this terrible, terrible song.
Fortunately, I own a CD with not one, but three versions of this song. So let's listen again…
I think a lot of what makes me hate this song so much is that it seems to start out of nowhere. I think it might have to do with starting a song with the word "and." It's much how I feel about his more popular hit "My Love." And yet as the song plays, I sing along. It does have a catchy chorus and melody, but that's McCartney's trademark.
It's strange, I like the bass line and the melody, and McCartney's vocals are somewhat weak, as if he's in pain to sing it. It's almost beautiful, but yet it doesn't form into a cohesive song.
The other two tracks on the CD are remixes. The first places McCartney's vocals in the forefront, keeps the instrumentation sparse. While the bass is preserved, the piano which drives the song is missing. I can't say I've listened to this version of the song more than once, and I don't see any reason to listen to it again.
The second remix begins with sparse piano. It kind of picks up my soul and gives me faith in the song. The vocals are buried and have too much reverb happening, but it seems David Kahne's second remix is much better at finding the beauty in this song.
There's something magical in this song that just isn't shining in any of these recordings or mixes. It truly could be something spectacular, but falls flat. A man who lost his wife to cancer pleading "let me love again."
Now I want to listen to Driving Rain, which is a good record.
 29.625 (80%) |
 7.375 (20%)
CD: 21.5 (58%) | Vinyl: 12.5 (34%) | Digital: 0 (0%) | 7″: 2 (5%) | Box: 1 (3%)
1960s: 4 (11%) | 1970s: 2 (5%) | 1980s: 1 (3%) | 1990s: 11 (30%) | 2000s: 17 (46%) | 2010s: 2 (3%)
 10.8 (29%) |
 16.2 (44%) |
 8 (22%) |
 1 (3%) |
 1 (3%)
 4 (36%) |
 1 (9%) |
 4 (36%) |
1 (9%) |
0 (0%) |
0 (0%) |
0 (0%)

0 (0%) |
0 (0%) |
1 (9%) |
0 (0%) |
0 (0%) |
0 (0%)